Polymer Chemistry is the underpinning science of modern materials and biomaterials. The Polymer Research Group at AIBN is building and studying new materials to solve practical problems facing our society.
The Polymer Group is led by a team of senior researchers (Whittaker, Blakey, Peng, Rolfe, Hill) combining experience in synthetic chemistry, physical chemistry, biomaterials science, nanomaterials science, photolithography and NMR and MRI.
The main application areas for our research are in medical imaging agents, nanomaterials science, active surfaces and materials for photolithography.
Members of the Polymer Group participate in the ARC Centre of Excellence in Convergent Bio-Nano Science and Technology (CBNS). This major initiative brings together scientists from Monash University, University of Melbourne, University of Queensland, University of New South Wales and University of South Australia. Within the COE, the Polymer Groups works on development of imaging agents, theranostic molecules, drug delivery devices and antimicrobial polymers.
Our history
Research into Polymer Chemistry at the University of Queensland began with the Polymer Materials Science and Radiation Group founded by Prof Jim O'Donnell and Drs David Hill and Peter Pomery in the mid-1970s. However, polymer research at UQ dates from the appointment of Jim O'Donnell to the Department of Chemistry in 1964. Many fundamental areas of research into polymerisation and degradation have continuted from those early times. Below is a picture of the Polymer Chemistry Group taken in 1991 outside the UQ Chemistry Building.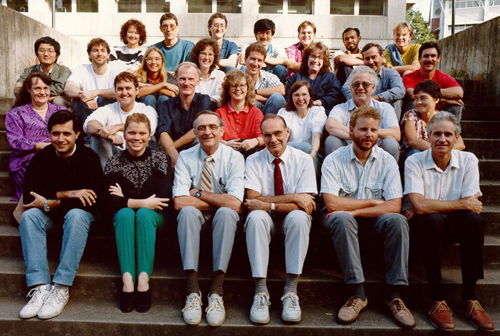 Who we are now and what we do
Our work spans fundamental to applied sciences; we believe in applying our expertise in polymer and physical chemistry to solve questions important to society.
Specific projects in polymer research include
Biomaterials Science
Medical imaging agents; Hydrogels for drug delivery; Antimicrobial surfaces.
Medical Imaging Agents
MRI relaxation agents; 19F MRI agents; Ultrasound agents; Bimodal molecular imaging.
Photolithography
Radiation chemistry; Immersion lithography; EUV lithography; Block copolymer self-assembly
Nanomaterials Science and NMR Spectroscopy
Our partners and sponsors
The research in the Polymer Chemistry Group is funded from a number of sources, including the University of Queensland, the Australian Research Council, the National Health and Medical Research Council, the Queensland State Government through the Smart State Schemes, the Australian Cancer Research Fund, the Australian Institute for Nuclear Science and Energy, and by our industrial partners, notably the Dow Chemical Company, Sematech and Intel.
We collaborate with leading researchers and groups on four continents, some of which are listed below and on our collaborators page.